This Sunday, October 10 is World Mental Health Day, which is observed to raise awareness of mental health issues around the world and mobilize efforts in support of mental health. October 10 caps the end of Mental Health Week, observed from October 3-9. The World Health Organization's theme for World Mental Health Day 2021 is "Mental health care for all: let's make it a reality." 
Each year, millions of Americans face the reality of living with a mental illness. Here are 8 things you need to know about mental health care this World Mental Health Day:
There is on average an 11 year delay between the onset of mental illness symptoms and treatment.
Depression and anxiety disorders cost the global economy $1 trillion each year in lost productivity.
1 in 8 of all visits to U.S. emergency facilities are related to mental and substance-use disorders.
1 in 5 U.S. adults experience mental illness.
17% of young people ages 6-17 have a mental health disorder.
50% of all lifetime mental illness begins by age 14.
Suicide is the 2nd leading cause of death among 15-29 year-olds.
The global median of government health expenditure that goes to mental health care is less than 2%.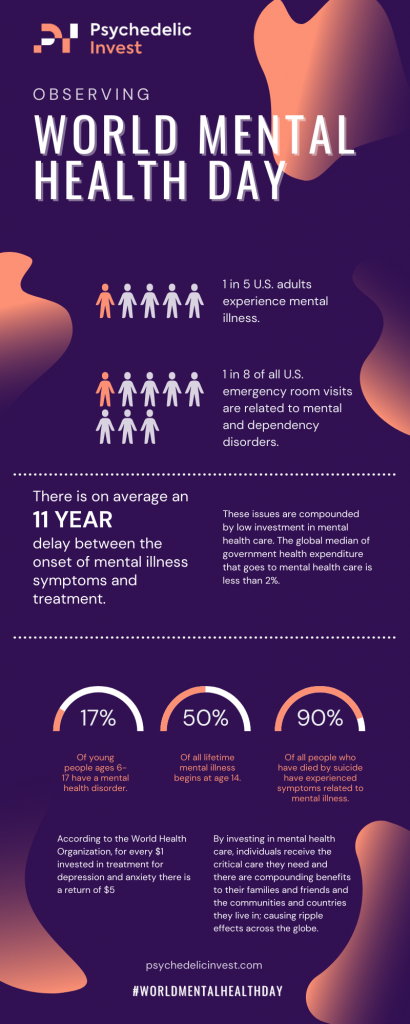 According to the World Health Organization, for every $1 invested in treatment for depression and anxiety there is a return of $5 and for every $1 invested in treatments for substance dependence disorders there is a $7 return and reduction in crime and criminal justice costs. By investing in mental health care, individuals receive the critical care they need and there are compounding benefits to their families and friends and the communities and countries they live in which causes a ripple effect across the globe.
Looking for ways you can help people facing mental illness? The best place to start is with people you may know. Let the person struggling with mental illness know that you want to help and listen to them without judgement. Offering words of love and encouragement and letting the person know they are not alone can make a difference in their lives.
Remember: If someone you know is in immediate danger, do not leave them alone and contact a crisis line, health worker, or family member immediately. The National Suicide Prevention Lifeline is available 24-hours a day at 800-273-8255.