One year ago, Field Trip Health (FTRP) came out with an aggressive strategy to open up 75 new ketamine clinics by 2023…
Today, it appears the ambitious plan is beginning to pay off…
On Wednesday, February 15th, Field Trip Health reported its third fiscal quarter 2022 results for the three months ending December 31, 2021. Attached to the earnings release were a few quarterly highlights, exciting developments surrounding their clinical expansion, and of course, an update on revenues – most of which, we'll cover below.
The Good: Clinical Growth
In what was perhaps the most promising news from Field Trip Health's earnings call, the company increased their patient services revenues to $1,360,811, representing an increase of 50% over the prior quarter and 330% year over year.
While there was time and effort spent on improving customer experience and processes surrounding their existing health care centers, Field Trip managed to open up three new health care clinics in the quarter as well. The new clinics are located in Seattle, Washington, Fredericton, New Brunswick, and San Diego, California.
Field Trip also announced the launch of its SMO Services, representing another possible revenue driver in the near future. The program will enable third-party companies and researchers developing psychedelic therapies to use its facilities to conduct clinical trials.
What's more? Here are the other company highlights presented in the recent earnings release:
Received Notice of Allowance for US Patent Application Covering FT-104 (Isoprocin Glutarate) – a more soluble, stable prodrug form of the psychedelic molecule 4-HO-DiPT

Appointed Stéphan Côté as Head of Quality to lead the SMO Services program

Appointed Vicki Reed as Chief Growth Officer in January 2022

Continued to invest in its lead drug development program through its Field Trip Discovery division with FT-104

Continued progress with the Company's strategic review of the current corporate structure

Progressed clinical research to identify a lead candidate in the FT-200 Group.
Announced it had approximately $74.5 million in unrestricted cash and cash equivalents and short-term investments as of December 31, 2021
The Bad: Operating Costs Ballooned
Net losses for the third fiscal quarter came out to $14,971,170 – an amount that nearly doubles the net losses reported in the previous quarter ($8,275,669).
The steep jump in lost net revenue was primarily due to the quarter's total operating costs of $15,629,788, which were comprised of the following:
General and administrative expenses of $9,120,333
Patient services expenses of $2,546,763
R&D expenses of $1,421,513
Sales and marketing expenses of $1,079,084
Depreciation and amortization of $1,014,018
Occupancy costs of $448,077
This compares with total operating costs of $5,921,860 in the third fiscal quarter of 2021.
Lo and behold, despite the strengthened clinical front, Field Trip is still nowhere close to becoming a profitable company.
And it didn't take long for investors to take notice…
Earnings Reaction
The company earned -0.21 cents per share on an adjusted basis in the quarter, just two pennies shy of Street estimates at -0.19 per share. The end result, like most missed earnings, was an unfavorable reaction by investors.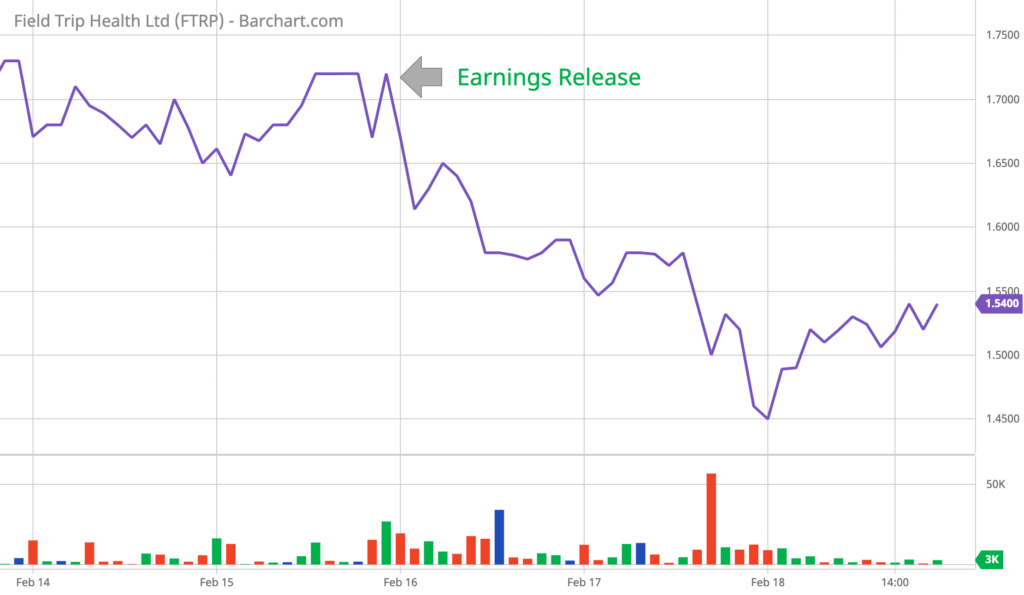 Since the earnings release, FTRP is down roughly 11%.
---
With the rate at which Field Trip is burning its cash reserves, it would appear to many that the company is on an unsustainable trajectory. That said, we'd like to remind readers that Field Trip is still an early-stage biotech startup inside a remarkable high-growth industry.
In a sense, those who invest today should not be betting on revenues made tomorrow or next quarter and should instead focus on the foundation Field Trip is building out for the future.
At the end of the day, Field Trip is the largest provider of psychedelic-assisted therapies in Canada, has a promising suite of drugs in its pipeline, and, thanks to its growing footprint of ketamine clinics spanning all across North America, is already producing cash – a feat that many in the public psychedelic sector has yet to achieve.