If you were to just look at the map below, you'll quickly grow concerned and confused about the future of Measure 109 in Oregon. After all, didn't the state vote "Yes?"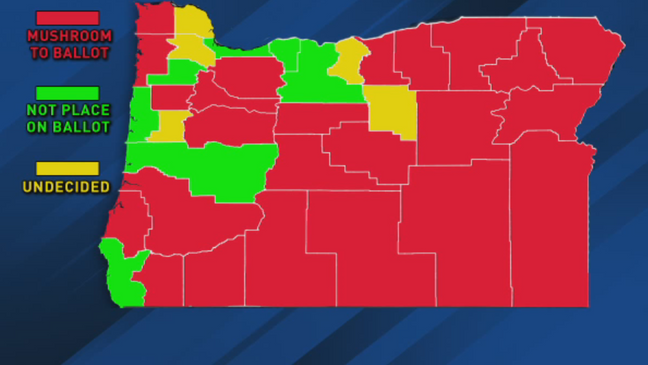 The map is a bit deceptive, though. A little bit of research has excavated the many reasons psychedelic supporters need not be concerned… yet.
Why Opt-Outs Won't Be The End Of Measure 109
The Oregon Psilocybin Services Act (Measure 109) will be tricky to navigate, and some companies are starting to see that.
The Measure includes an option for counties to opt-out, and many are considering it. In the upcoming November election, we will see many counties vote on the issue again. If a county votes against participating in the Psilocybin Services Act, they do have the option to opt back in at a later date. Some may take advantage of this to see how the measure affects other counties before bringing it to their own.
Given that 21 counties voted against it in 2020, it is not surprising that much of the state is considering opt-out ordinances. Though this sounds concerning, it is not as bad as you think. Let's take a look at what is going on in each county and what that means for the companies looking to invest.
2020 Vote for Measure 109
In the November 2020 election, only 15 of Oregon's 36 counties voted for Measure 109. Though that is only 40% of the counties, the act passed with 55% of the vote. Those 15 counties make up only about a quarter of the land mass of Oregon, yet they house over 70% of the population (calculated using the 2021 census statistics).
If you take a look at a political map of Oregon, much of the state is conservative. The highly populated, liberal cities are what make Oregon a blue state. Portland alone houses 15% of the Oregon population. Because of these small liberal cities with large populations, Oregon has passed some of the most progressive drug laws in the country. But, most of the state's counties are against using psilocybin. 
The map showing which counties will be voting to opt out is nearly identical to one showing which counties maintained a ban on Recreational Cannabis after it was legalized in the state in 2015. At least half the cities refused to get on board with Cannabis, yet the business still flourished. I am generally wary of comparing these two markets since cannabis use is recreational and psilocybin will not be. But, it is safe to say that if these counties were not able to destroy the flourishing cannabis business, the same will go for psilocybin.
What Will The Opt-Outs Mean for Business?
It is not surprising to see that the majority of counties are voting to opt-out of the measure. And, if they do, it will not pose a significant loss of business. With less than 30% of the Oregon population spread out over about 74,000 square miles, it would be hard for any psilocybin service centers to be profitable in those rural areas. Not to mention, the majority of the population in these counties remain against the use of psychedelics. 
These rural counties do have more land, for lower prices than many of the counties that voted for Measure 109. That would be a great opportunity for retreat centers looking to buy up large tracts of land. However, these areas house little to no airports, so they are less convenient to travel to than the western counties that house dozens of airports. People coming out of state to participate in psilocybin programs would be more likely to stick to the side of the state that is in favor of it simply because of convenience.
The counties that voted against Measure 109, and are now voting to opt out of it, do not pose a significant threat to the success of the measure. There are, however, a handful of counties that voted yes when the act initially passed, but are now reconsidering and bringing it to vote in November.
Counties That Could Pose an Issue for Measure 109
Only seven of the fifteen counties that initially voted yes have officially decided not to bring it back to the ballot. Another five counties have not yet decided if they will be voting on it again– two of which voted no in the 2020 election.
This is more concerning than the large number of rural counties that we knew were going to opt-out. However, the seven counties that will not be taking it to a vote still represent a third of Oregon's population (nearly 1.5 million).
Some of the counties that will be voting again (Jackson, Deschutes, Clackamas, and Washington) do have large populations that could be marketed to. If the vote goes through to ban psilocybin, those interested in seeking treatment will still be able to find it in neighboring counties.
The Synthesis Institute is one notable company that will be influenced by this vote. They have already bought 124 acres near Ashland, in Jackson county, with plans to build a retreat center. Jackson County has confirmed an ordinance will be voted on. If they vote to opt out, Synthesis Insitute will not be able to follow through on their plans. The incorporated city of Ashland has the option to opt back in. Unfortunately, the retreat center is on unincorporated land and this will not affect them. 
The company has said that they do not expect the ordinance to go through, but if it does, they plan to use the property to train facilitators. They have already submitted an application for their facilitator training program, and plans on that side of their business are not affected by this. 
We will not know exactly what this program will look like until the end of this year when the opt-out votes are cast and the OHA finalizes the regulations. That is why many companies who have expressed interest in opening service centers are waiting to put their plans into action.
This is a Long Game
The psychedelic industry has huge potential and is showing positive changes in the regulations surrounding it. But, these changes aren't going to happen overnight. It took over 15 years for Cannabis to go from medical to recreational in Oregon. There is no telling what the timeline looks like for psychedelics. Any legal use of Psilocybin is a huge win.
We will get a better sense of what the country's first legal psilocybin market will look like through the end of this year, and into 2023. Once the regulations are announced, more companies will begin to set up shop. We will not know what the profits from cultivation and service centers will be until at least the end of 2023, but anyone looking to get in on the ground floor will have to take action in the next six months.