After gaining 54.66% in the month of November, the Psychedelic Invest Index had a much quieter month in December, finishing with a gain of only 2.23%.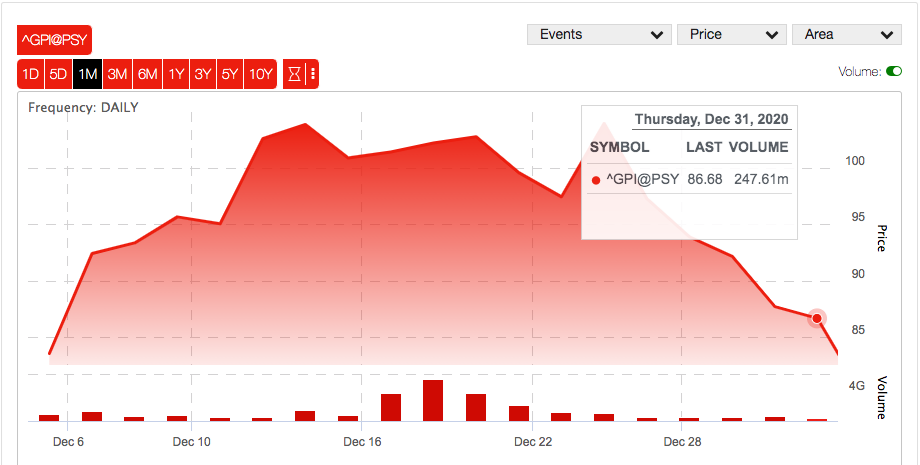 On Thursday, December 31, 2020, the index closed at a price of $86.69 and marked the end of what was a historic year for the entire psychedelic sector.
Since launching in June of 2020, the Psychedelic Invest Index has added over 10 companies as more management teams in this nascent industry take on the public markets.
The biggest takeaway from December's performance was the massive increase in total volume. The average trade volume in December (993.80M) was 1,993.55% higher than it was in November (47.47M). This is a telling sign that investor interest in the psychedelic sector is picking up. The largest day, by total daily trading volume, occurred on Thursday, December 13th, with 3.64B shares traded.
Top Performing Psychedelic Stocks in December 2020
While the index only gained a few percentage points (2.23%) in the month of December, a handful of companies witnessed triple- and double-digit gains in that same time-frame. Due to the fact that the index is weighted by share price, these gains had little impact on the index's overall price. Now that the psychedelic market has begun to mature, Psychedelic Invest plans to begin implementing minimum requirements for psychedelic companies to be listed in order to better reflect the overall psychedelic public markets.
Here's how the 10 largest companies (by market capitalization) in the index performed in December, to paint a better picture of overall growth.
**The 3rd largest stock by market cap, Champignon Brands (SHRM), has been halted since June of 2020.
Worst Performing Psychedelics Stocks in December 2020
The following psychedelic stocks performed the worst during the month of December:
Looking Forward to January 2021
The index, currently consisting of 34 constituents, has plans to add 7 new companies for the next rebalancing update in January 2021. The following companies are likely to be added: