The past few months haven't been kind to psychedelic investors and January was no exception.
In 2021, we saw three companies IPO at a greater than $1 billion valuation. This includes Compass Pathways (CMPS), GH Research (GHRS), and ATAI Life Sciences (ATAI). We also saw MindMed (MNMD), which first went public in 2020, break the coveted $1 billion market cap as well.
In fact, those four companies were down on average more than 26% in the last 30 days.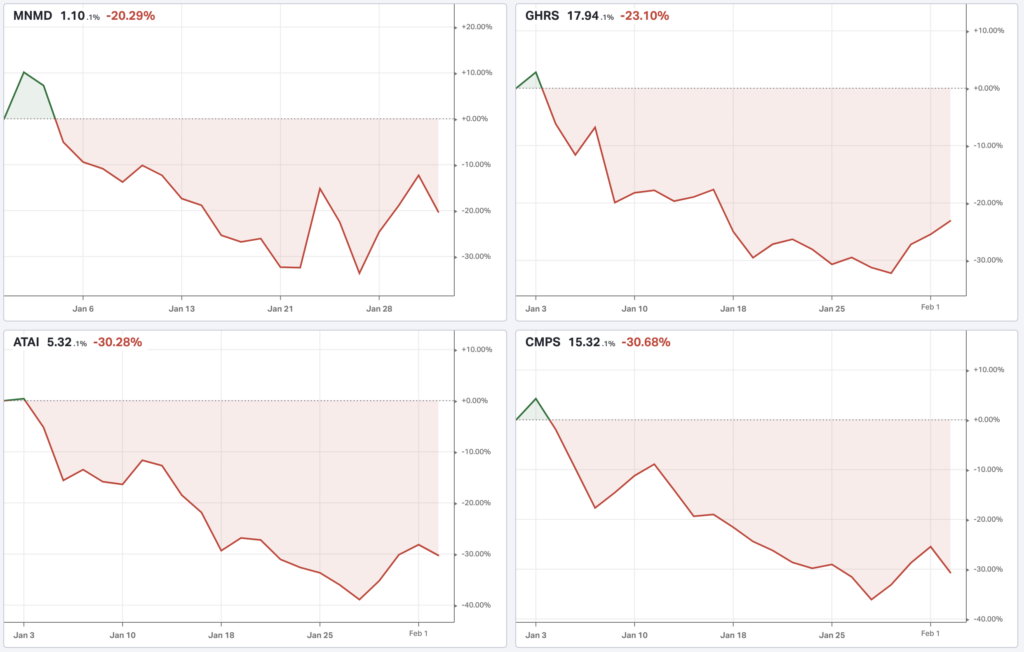 And the same four companies are now on average down more than 55% over the last three months.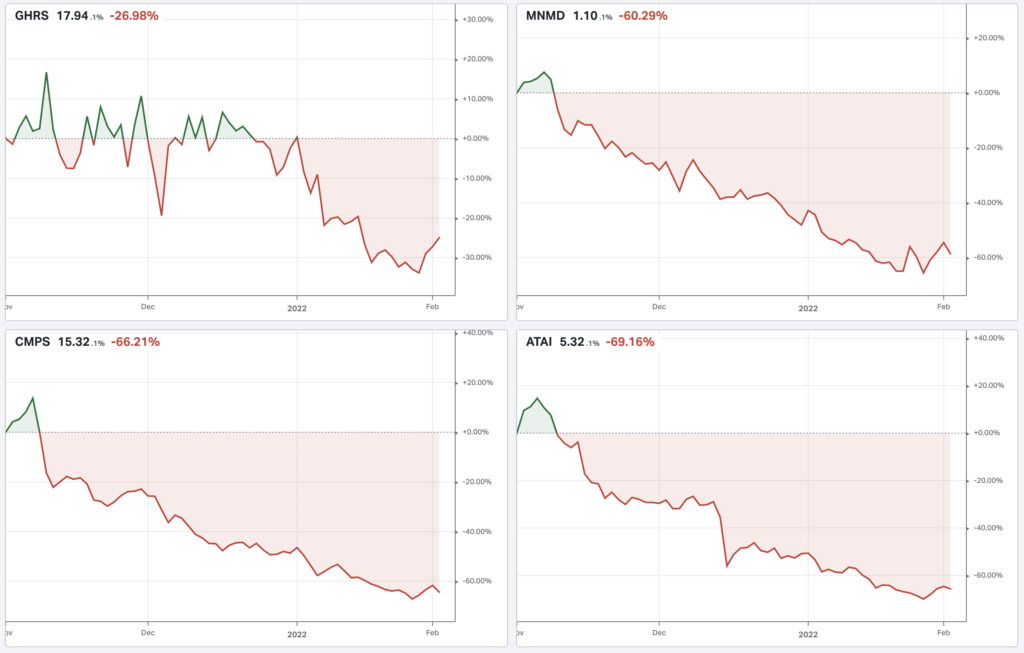 Looking further, we can see this play out in the psychedelic focused ETFs:
Horizons Psychedelic Stock Index (PSYK) is down 13%.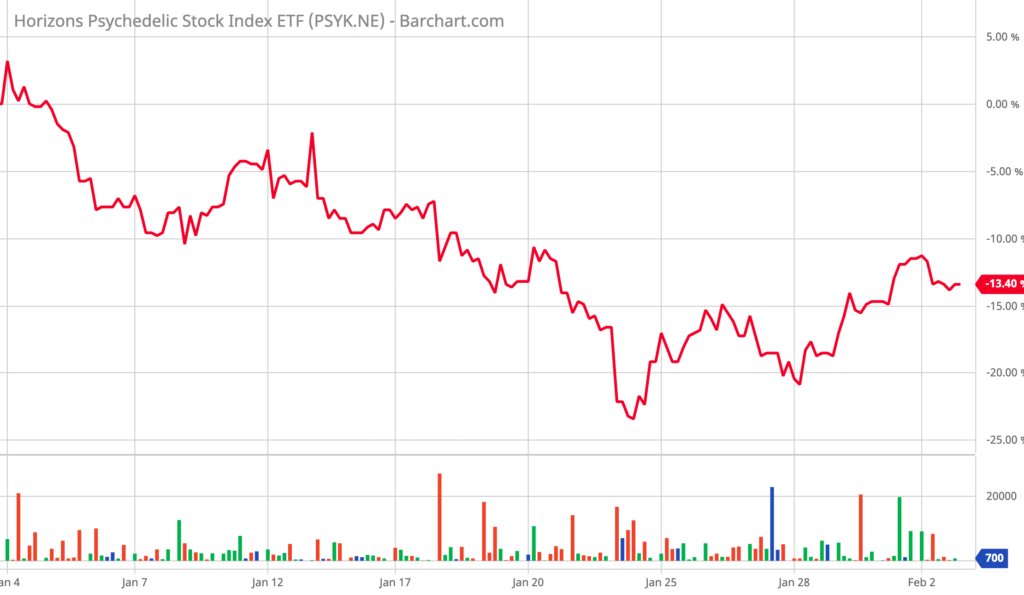 Advisorshares Psychedelics ETF (PSIL) is down 23%.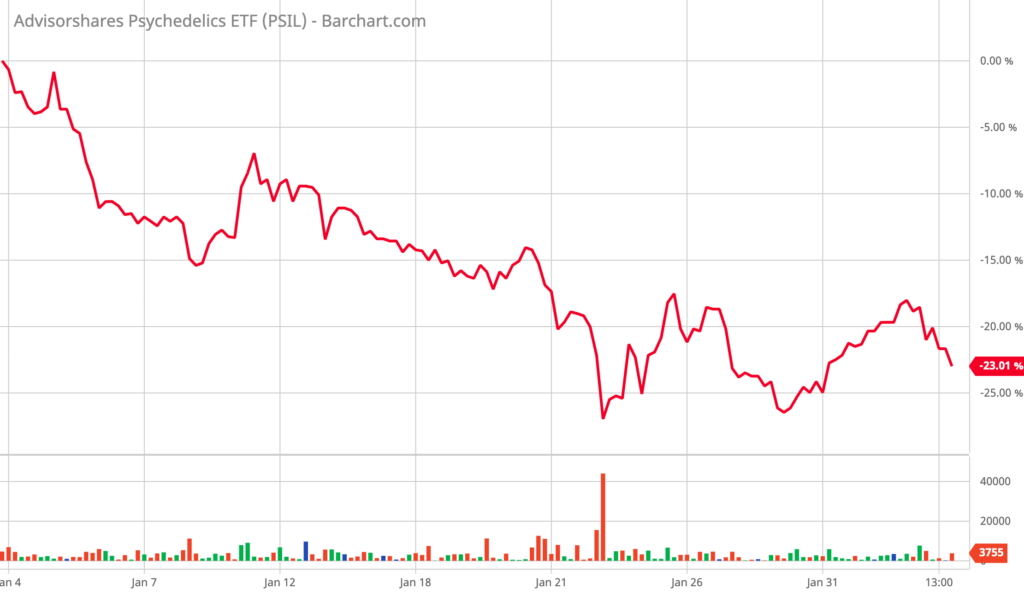 Defiance Next Gen Altered Experience (PSY) is also down 15%.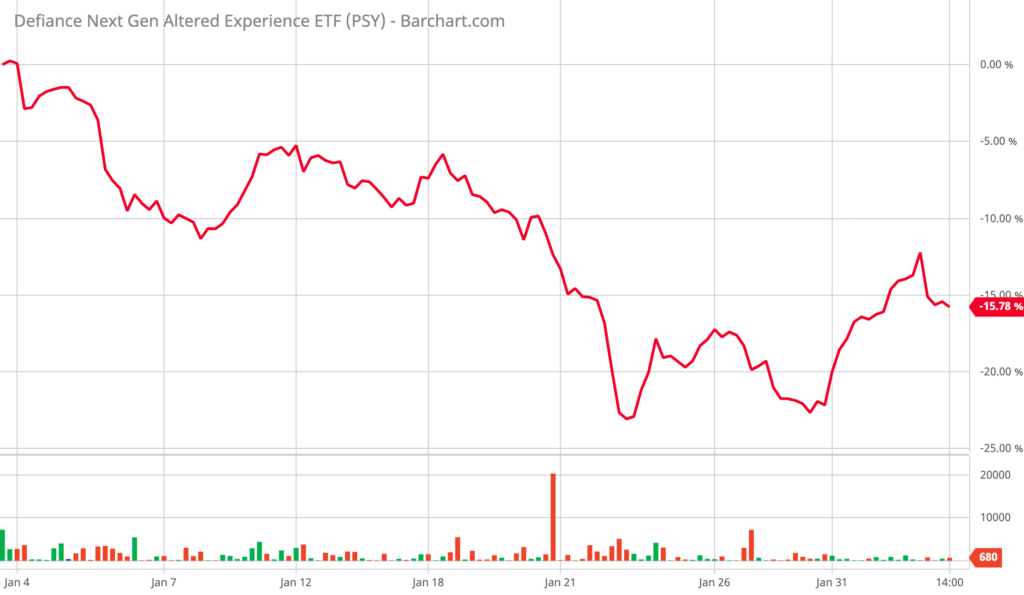 So what gives? …Why is the market slumping? …And why are some of the most promising companies in the world of pharmaceuticals down so much?
Before we get to that, I'd first like to introduce myself.
Hi, I'm Adam Tubero.

I've recently joined Psychedelic Invest to help bring informative and actionable insights for psychedelic investors. I'm originally from New York where I worked for the hedge fund, Chart Prophet Capital. After working there for three years, I decided to move away from finance to focus on therapy and coaching, including with the use of psychedelics.

I've now joined Psychedelic Invest to bridge my two passions, investing and psychedelics, to help investors make informed decisions while also furthering the message of psychedelic healing.

Besides that, a few fun facts about me:
1. I have an irrational fear of caterpillars and worms.
2. I'm bilingual (English/Hebrew)
3. I have a black belt in Taekwondo.

Now, let's get back to what is moving these markets…
Why the Psychedelic Market Is Down Over the Past Six Months
Looking over the past few months (and even the past year), investors could point to a few different factors:
General confusion among retail investors attempting to differentiate between the different psychedelics companies on the market.
2021 was a banner year for psychedelics with dozens of companies going public. Although there was a ton of hype among retail investors about the potential of the space, there was also a large amount of confusion among them trying to discern which companies to put their money behind. Many of the companies in the space are targeting the same indications and oftentimes are doing research in stealth to protect their IP. This leads to long lag times of results which investors can point their fingers to as success.
The current macroeconomic backdrop.
With rising inflation and interest rate concerns, investors are beginning to rotate out of growth stocks for value. With most of the psychedelics market having no (to even negative) profits, they are getting caught in this rotation.
Lockups expiring.
With hundreds of millions of dollars pouring into private psychedelics companies in 2020 and early 2021, early investors may want to begin taking profits. Whether the profit taking is leading to drawdowns or the perception of profit-taking is driving down returns is debatable, but regardless it is weighing heavily on the companies.
The entire Biotech market is down.
The bear market isn't confined only to psychedelics. The S&P Biotech SPDR (XBI) for example is down more than 20% in January.
Companies going public too early.
In 2021, we saw many companies going public with simply a business plan. Oftentimes, these companies were preclinical and without a true business plan on how they are to make money.
We also saw many companies that were not actually focused on psychedelics pivot their branding and/or company name to take advantage of the "psychedelic hype."
Many of these companies didn't have the war chest or longevity in the market to weather potential downturns.
Looking Forward
Regardless of what is causing the psychedelic market downturn, here at Psychedelic Invest we have been recommending readers to invest "with a VC mindset".
Money is still flowing into the ecosystem, such as PsyMed Ventures' recent $25 million raise and high-quality companies in the space continue to show positive results.
Despite an opaque regulatory outlook, 2022 psychedelic fundamentals are moving in the right direction. The year will bring legalization to more states, company balance sheets will begin to show revenue and future cash flows, and there is potential for more interesting mergers & acquisitions.
We continue to suggest looking at investing in psychedelics on a five-year timeframe.
Psychedelic companies are an investment, not a trade.
If you are looking at this game from a one-year mindset, you may soon be in for unfavorable results.