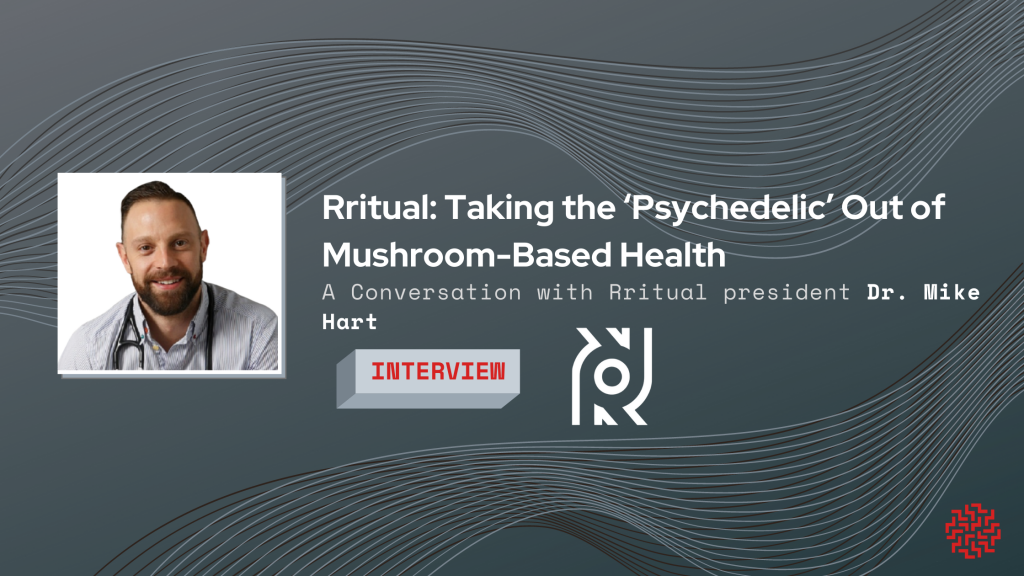 While not as well known as their psychedelic cousins, so-called "functional mushrooms" have been on a tear lately. These antioxidant- and nutrient-packed varieties have been used for medicinal purposes worldwide for thousands of years and are now driving a market that's on track to reach $62B by 2023. That's a CAGR of nearly 8% since 2018.
Soon to debut on the Canadian Stock Exchange (CSE), Rritual is right at the center of this growth.
As a plant-based consumer wellness brand dedicated to creating "simple, pure, yet effective plant-based health products," the company is backed by a leading team of scientists, doctors, nutritionists, and experts across the wellness space. Rritual recently launched its first range of products, including certified organic mushroom and adaptogen elixir mix powders that offer health and wellness benefits without the full experience that comes from psychedelic compounds.
We recently spoke with Rritual president Dr. Mike Hart to learn more about functional mushrooms and what the company expects from the segment going forward.
Psychedelic Invest: Rritual's a pretty interesting name for a company, playing off the idea of "your daily ritual." What's your elevator pitch, and what are you working on?
Dr. Mike Hart: We're an adaptogenic mushroom company, but none of our mushrooms have any psychoactive or psychedelic compounds. In fact, all of our ingredients are organically sourced, and the mushrooms can all be purchased legally. No one has to worry about any psychoactive or psychedelic effect with our mushrooms.
We believe that organically sourced mushrooms are very beneficial for a lot of different medical conditions. We're also working with other adaptogens like Rhodiola to make our products even better overall.
PI: If they're not psychedelic, what's the end use for your products?
MH: This is something that can be used every day. That's the difference.
For example, one of our first products is a Chaga immune support product for anyone who wants to boost their immune system every day. People take vitamin D and vitamin C every day for their immune system, so this is something else they can add that can help increase white blood cell production and fight off viruses and bacteria.
PI: Obviously, natural plant healing has been around for a long time and has benefits that go beyond the psychedelic side. Are you hoping to bring this type of healing to the masses?
MH: Yes, we are, and we feel that there are two different categories for our customers. For some people, these products could potentially replace something that they're already using, such as a pharmaceutical. Some of these products can be beneficial for those who have anxiety, or depression, or PTSD.
But we're also targeting entrepreneurs and people who are already healthy but are looking for an extra edge. Maybe they're someone who uses coffee every day. They don't necessarily have anxiety or depression or any mental health disorder, but they're looking for some extra energy. And that's where a product like our Lion's Mane for cognition can come into play.
Beyond that, we don't want to make any claims, but we can say that studies have shown that things like Lion's Mane can reduce anxiety. So, not only can it reduce a person's overall anxiety but it can also give them a little bit of a cognitive boost and help with their overall productivity.
PI: So, this is similar to the difference between CBD and THC in cannabis?
MH: That's a very fair comment. As we know, with cannabis, THC is the only psychoactive cannabinoid, and the other cannabinoids are not psychoactive to the point where they will make you high.
So, when you're looking at mushrooms, you can easily say that something like Lion's Mane is like CBD in the cannabis space because it does have the same type of cognitive promoting properties without the psychedelic effect.
PI: Do you expect to see more non-psychedelic products hit the market?
MH: I think so. In general, I think you're going to see a lot more natural health products that support people interested in getting away from the drugs being distributed by pharmaceutical companies and physicians.
There's a natural health movement going on, and, in my opinion, mushrooms represent a big group of compounds that we haven't really tackled yet. Kind of like what's happened with cannabis, we're going to see a lot of these benefits come out in the next few years as the research and studies catch up. I'm very excited about that, and I feel that the mushroom market will explode in the next few years.
There's just a very high demand for it. There's also a lot of new evidence that's going to be coming out regarding mushrooms and the health benefits they can offer.
PI: How close are you to going to market and having products available for purchase?
MH: We're just about there now. We're launching our first round of products this month, and we're hoping to go live on the Canadian Stock Exchange in the next couple of months, so it's a really exciting time for the company right now. Very, very busy, but exciting. We have all the right people in place, we have fantastic products ready to go, and we feel that our products will speak for themselves. We're very excited for people to try them for themselves.
Learn more at wearerritual.com.