If you have turned away from the psychedelics stock market over the past year, we can't say we'd blame you.
There are multiple — high profile — psychedelics stocks down 60%, 70%, and even 80% year to date.
For example, taking a look at any publicly traded psychedelic company with a greater than $50 million market cap as of June 1, 2022, we'd see an average loss of ~40%.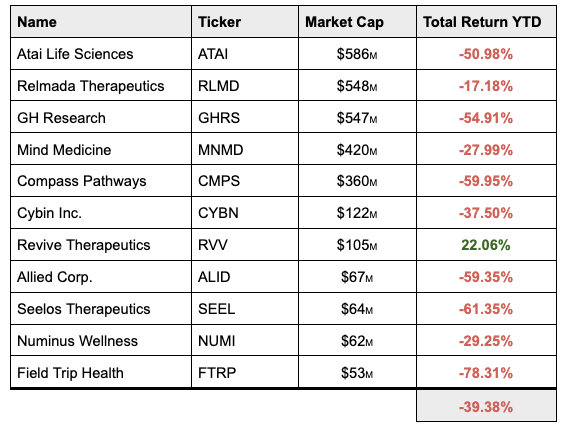 As we've pointed out in previous updates, the bleeding isn't confined simply to psychedelics stocks, with ETFs such as the SPDR S&P Biotech ETF (XBI) and the iShares Biotechnology ETF (IBB) down -40.43% and -26.63% respectively.
And for those that like to compare psychedelic stocks to the cannabis industry, the AdvisorShares Pure US Cannabis ETF (MSOS) is also down -45.64% year to date.
But, the past month — and more specifically the past week — may be pointing to a change in the market.
Are Psychedelic Stocks Bottoming?
Now that's a headline sure to turn some heads…
Especially when you take a look at the performance of the same largest market cap stocks and see that they returned -5.40% on average during the month of May.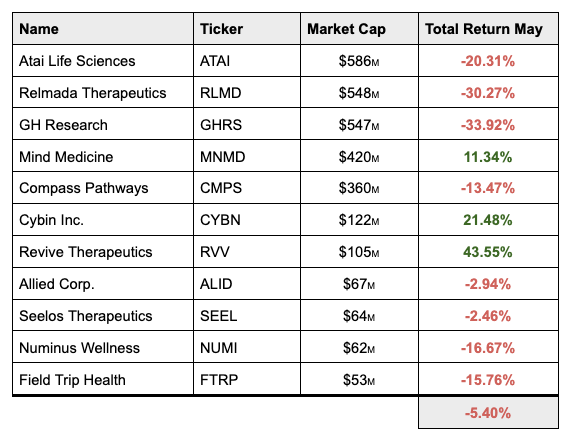 But underneath the surface, a few psychedelic stocks are beginning to make some moves.
Zooming in, you can see that the same stocks we listed above are predominantly in the green, with an average gain of 5.65%.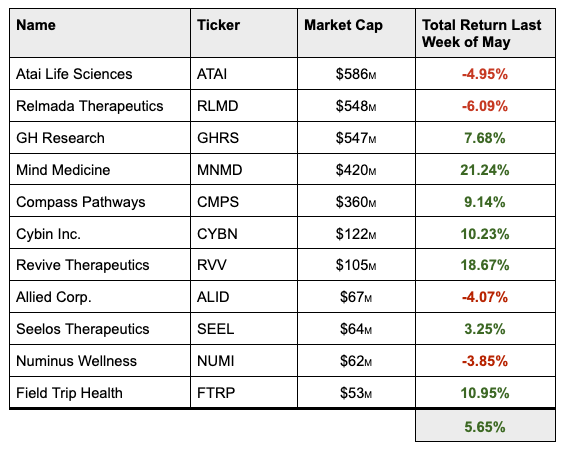 The gains were largely due to a few companies such as Revive Therapeutics (RVV), and MindMed (MNMD).
Revive, for example, is now up more than 100% since May 12, 2022. Now to be clear, much of that gain may be due to their announcements around their Phase 3 clinical trial for Bucillamine in COVID-19, rather than specifically a psychedelics-related announcement.
With that being said though, we can't discount the large gains made by the other psychedelic pure plays. For example, MindMed has been on a steady rise since they announced Q1 earnings on May 14th.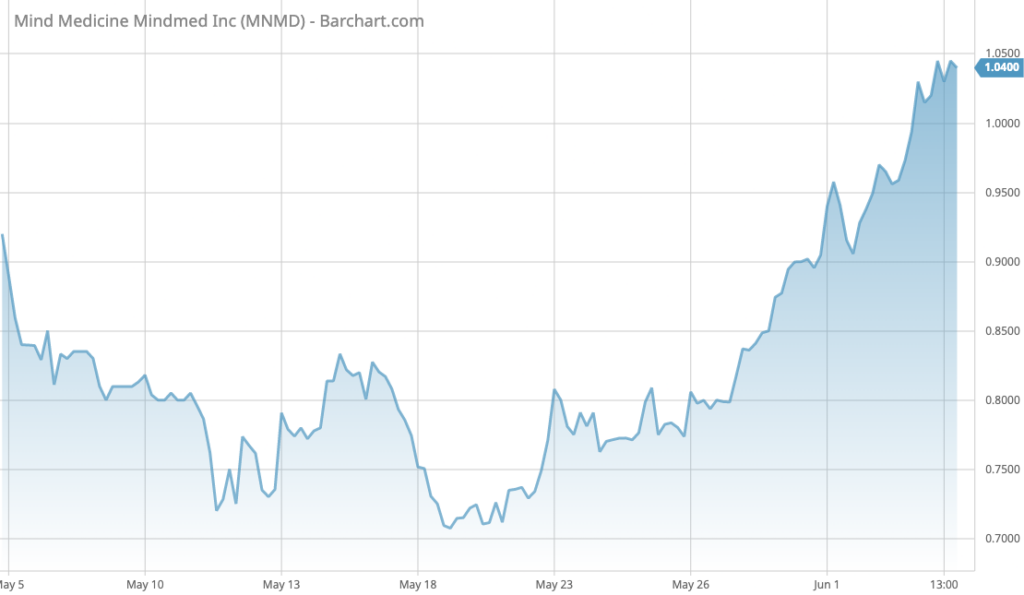 Private Money Continues to Enter the Playing Field
As we have said in recent updates, it seems that while the public markets are having a bit of a reset back to sane valuations, the private markets are continuing to raise money.
So, are we at the bottom?
Or is this just a market tease waiting to capitulate eager investors looking to enter the market?
It's a little too early to tell, but we believe it's time for investors to start paying attention to the space once again.