In our psychedelic stock market update for May 2022, we asked a few simple, but important questions…
Were we at a market bottom with the psychedelic stock sector ready to explode higher?
Or, were the positive returns during the last few weeks of May just a market tease waiting to capitulate eager investors looking to enter the market?
Looking back now, 30 days later, the answers seems to be a resounding – yes.
Yes, some psychedelic stocks began to perform positively in June, while others continued their downward trend, reaching new all time lows.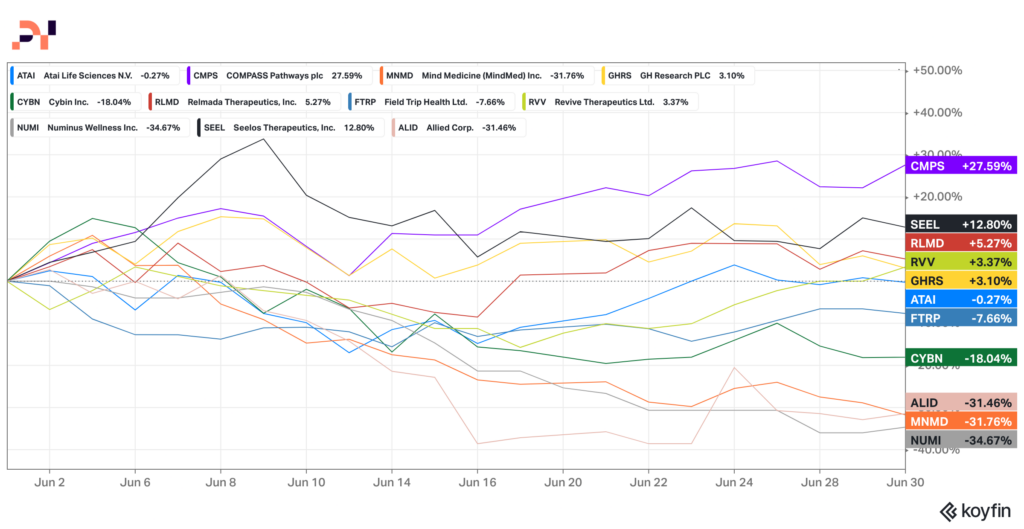 As we can see in the table below, a diversified portfolio of psychedelic companies with market caps greater than $50 million was down -6.52% in June. This, after being down -5.42% in May.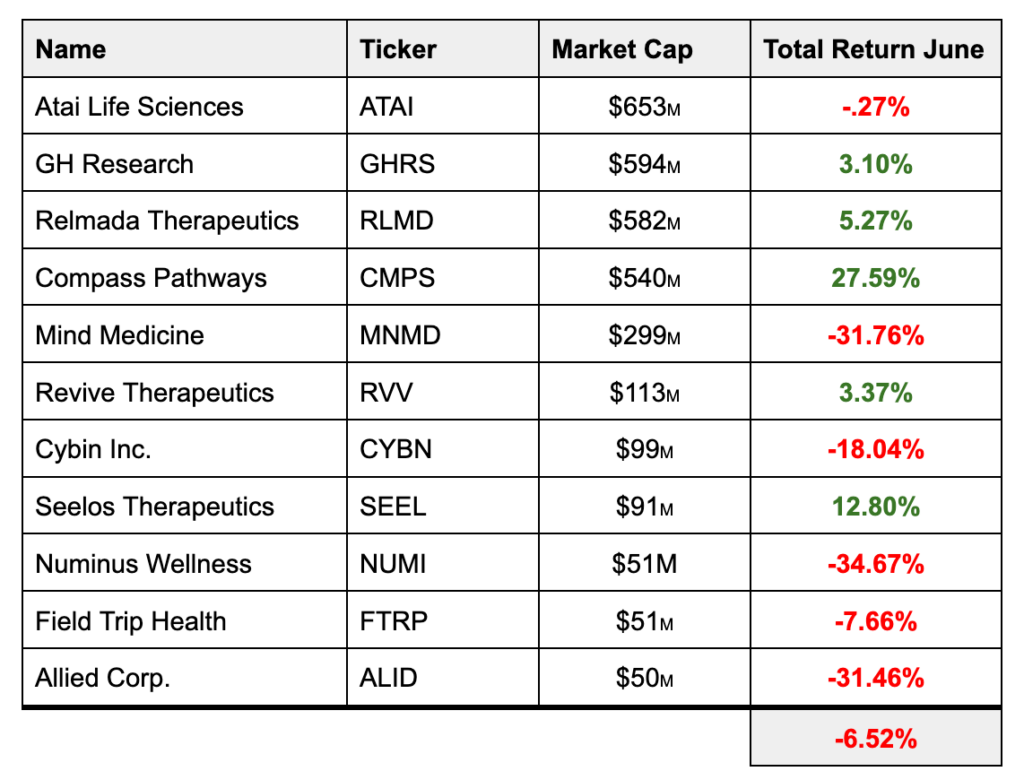 But as investors have noted, the drawdowns in June were primarily subject to companies trading for less than $100 million market caps. If we were to take only the five largest publicly traded psychedelic stocks, we would have seen a total return in June of .79%.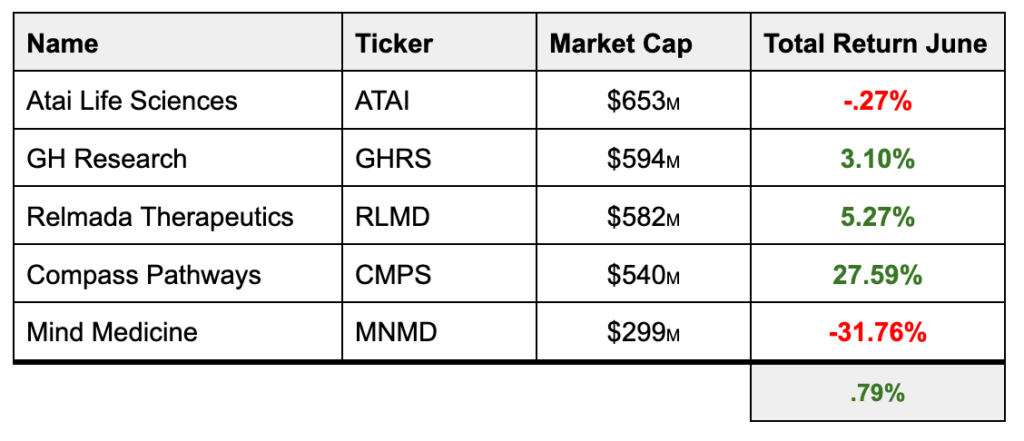 Although .79% is not a bad one month return, especially when considering the S&P 500 and NASDAQ respectively returned -7.07% and -8.05% in the same period, if we compare to the sort of "benchmark" we have been using over the past few months – the SPDR S&P Biotech ETF (XBI) – the portfolio didn't come anywhere close. XBI scored a 9.98% return for the month of June. 
Still, a portfolio of only the largest psychedelic stocks is still worth exploring in a time like today, which is why this month we published a deep dive into the earnings results and future pipelines of three of them: Atai Life Sciences (ATAI), Mind Medicine (MNMD), and Compass Pathways (CMPS).
A Month of Patent Debates
In our last two psychedelic stock market updates, we mentioned that while the public markets were nosediving, the private markets were continuing to make progress and raise hundreds of millions of dollars. Although this continues to be the case, in June there were some significant happenings in publicly traded psychedelic stocks that we would like to update investors on – specifically around patents.
Compass Pathways' Patent Challenges Denied
In December 2021, a non-profit known as Freedom to Operate (FTO) attempted to challenge two of Compass Pathways' patents on a synthetic form of psilocybin. FTO claimed that Compass' patents were technically not "new" and therefore shouldn't be able to be patented.
After sending petitions to the Patent Trial and Appeal Board (PTAB) last year, in June a decision was reached with the PTAB siding with Compass on its patent claims.
Compass Pathways' stock is up more than 33% since the decision was handed down.
MindMed Granted a New Patent
On June 22, MindMed (MNMD) was granted a US patent for "administering an empathogen/entactogen and a psychedelic in the same single oral dosage form to an individual."
Simply, this means that MindMed has now patented the combination of an empathogen and an entactogen such as MDMA and LSD, or MDMA and mescaline, as examples.
The patent was given to Dr. Matthias Liechti, a University of Basel in Switzerland professor who is also an advisor to MindMed. MindMed had originally exclusively partnered with Dr. Liechti's lab in 2020.
Although the process of taking MDMA and LSD at the same time has been around for decades and is colloquially known as "candyflipping," MindMed claimed that the process of ingesting "the same single oral dosage form" was patentable as opposed to the recreational use case of taking MDMA and LSD in separate dosages.
Whether or not this patent is ultimately a game changer is yet to be seen, but rest assured it will be hotly debated.
To learn more about both of these happenings, you can check out our five minute update from our new series Weekly Extractions.
Other Potential Catalysts?
Overall, the psychedelics public markets continue to deal with a few major headwinds that could continue to have negative impacts on their stock prices… but that doesn't mean July doesn't have anything to look forward to.
Stay tuned. The psychedelic market isn't going anywhere.