The recent run up in MindMed's (MNMD) stock price due to it's NASDAQ uplisting has led the company to surpass Compass Pathways (CMPS) as the largest psychedelics company based on market capitalization. 
At a market capitalization of $1.52 billion as of April 28, 2021, MindMed is valued at more than 14% larger than Compass Pathways' $1.32 billion valuation. 
MindMed's price increase is directly related to it's listing on the NASDAQ stock exchange on April 27th. The stock has more than doubled in price since it's listing announcement on April 23rd.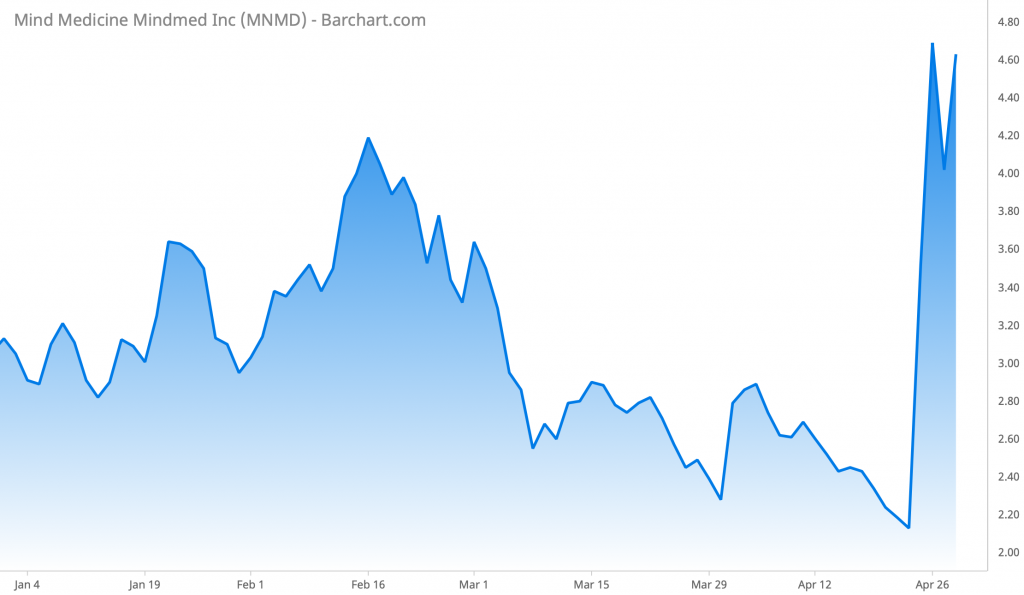 In the announcement, the CEO of MindMed, JR Rahn stated: "We believe this listing will increase our visibility in the marketplace, improve liquidity, broaden and diversify our shareholder base, and ultimately enhance long-term shareholder value."
Rahn seems to be correct as the NASDAQ uplisting not only resulted in a share price increase but also an increase in exposure as shown in Google Trends search data. 

Compass Pathways Raises Money
After what could be called the most hyped psychedelic listing of 2020, Compass Pathways has continued to disappoint investors. The stock is down more than 20% year-to-date.
The price decrease is most likely correlated to the very public debate between podcaster and psychedelic charitable funder, Tim Ferriss, and the first backer of Compass Pathways, Christian Angermayer. 
The company also just passed the 6-month lock-up period for early investors.
Perhaps due to these events, Compass Pathways today announced a proposed public offering 4,000,000 American Depositary Shares (ADS) with a 30-day option to purchase up to an additional 600,000 ADSs.
What the Future Holds For These Two Companies
As the obvious, two leading companies in the psychedelic space right now, and the only companies to be listed on the NASDAQ exchange, what MindMed and Compass Pathways experience will continue to influence the psychedelic marketplace as a whole. 
That is, until ATAI Life Sciences, which just filed its S-1, goes public in what is rumored to be mid-May.