This comes as quite a surprise to new investors discovering the growing psychedelics industry, as most countries throughout the world have outlawed these drugs.
How can there be a legal market to invest in psychedelics companies while at the same time consuming or possessing psychedelic drugs can land a person in prison?
There is no perfect answer to this question, because the truth is that there is an enormous disconnect between government policy and science.
Currently, there is an overwhelming amount of evidence that psychedelic drugs can treat anxiety, depression, PTSD, and other mental health issues. Furthermore, many studies are showing lower risk and higher efficacy when compared to traditional pharmaceutical drugs currently on the market.
Despite an increasing amount of positive research correlated to psychedelic drugs, government policy is usually influenced more by economic incentives, rather than scientific data.
If that trend is to stay true – where legal structures shift with economic opportunity – the psychedelics industry is likely to see significant positive legal changes in the coming years.
Psychedelic Invest, along with Neuly, have been tracking companies and investors in this rapidly changing market. Dozens of investment firms and private individuals have already deployed hundreds of millions of dollars into a variety of different psychedelics companies.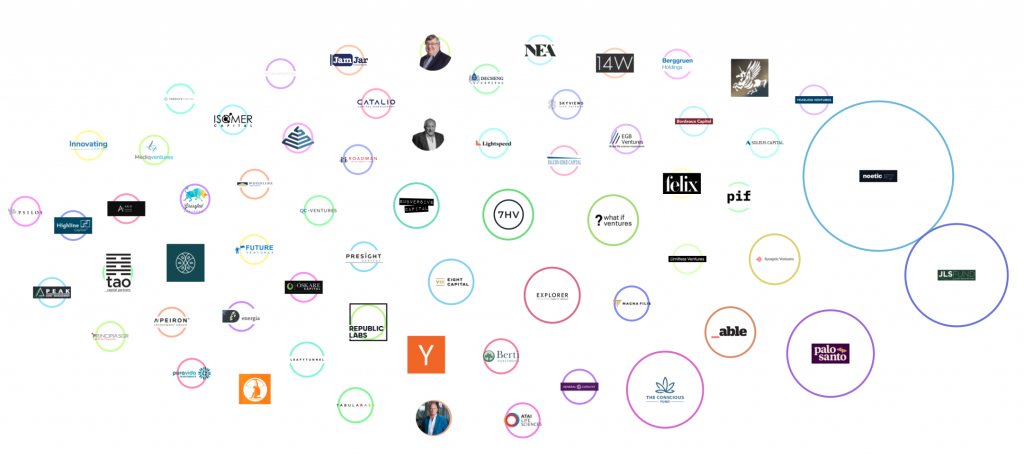 These companies, some of which are now publicly traded, have already made many of these early investors eye-popping returns. For example, Compass Pathways was considered the first unicorn in the industry with a current market cap of well over $1 billion.
Privately held, Atai Life Sciences, recently raised over $150 million, creating a valuation of over $2 billion. This came shortly after their previous oversubscribed series C raise in late 2020. The company's cap table includes many notable investors such as Mike Novogratz and Peter Thiel.
While these two 'psychedelic unicorns' stand out for their large valuations, there have been dozens of smaller companies that have had massive success over the past year. Field Trip Health, Numinus Wellness, and Cybin are just a few of the companies that are still trading significantly higher than their recent IPO price.
So, how much upside is still available for investors considering entering this new industry?
Worldwide, there are over one billion people who suffer from depression, anxiety, PTSD, and addiction. This has created an industry within the pharmaceutical world that is extremely lucrative, but ripe for disruption.
The global mental health market is expected to reach $6 trillion by 2030, and will likely exceed that number as we continue to realize the devastating side-effects of the COVID-19 pandemic. Potential patients are seeking treatments that are not only more accessible, but also more affordable.
This impending mental health crisis, combined with demand for alternative treatment from patients, positions the psychedelic investing world for massive upside potential.
There are a variety of venture capital firms that are currently raising money, including Noetic's $200 million Fund II. Within the next six months, Psychedelic Invest has information regarding at least six completely new teams of investors launching venture capital funds over $20 million.
Investors considering which fund opportunities to participate in can review the current top ten most active firms and their holdings: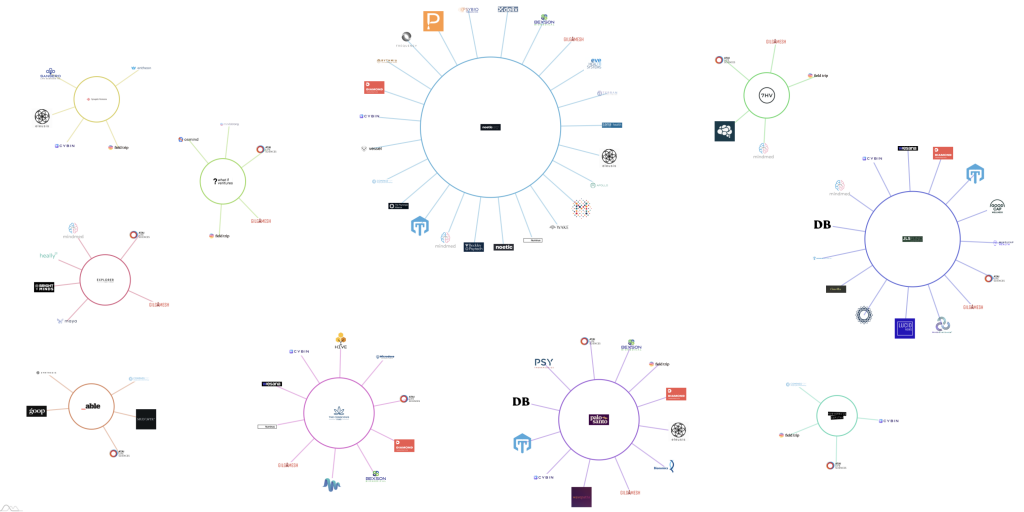 The Most Active Psychedelic Investment Firms
| Investor | Deal Count |
| --- | --- |
| Noetic Fund | 24 |
| JLS Fund | 15 |
| Palo Santo | 12 |
| The Conscious Fund | 12 |
| Explorer Equity Group | 6 |
| Seven Hound Ventures | 6 |
| What If Ventures | 6 |
| Able Partners | 5 |
| Synaptic Ventures | 5 |
| Subversive Capital | 5 |
The most common investment across these ten firms is in Atai Life Sciences, which will likely provide returns of several hundred percent upon IPO.
#1: Noetic Fund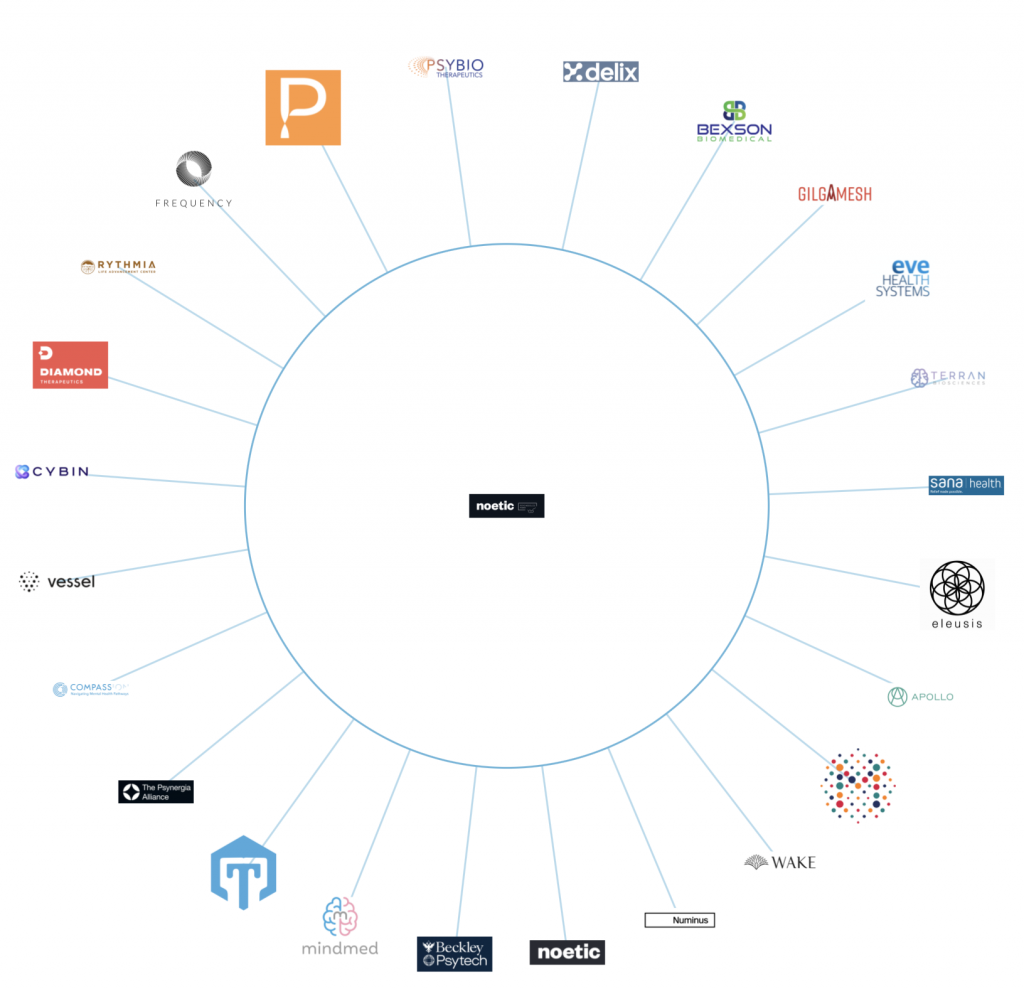 Noetic Psychedelic Fund has been far and above the most active investor in the psychedelics space. Launched by Grey House Partners, the fund aims to invest in emerging and early-stage wellness, therapeutic and pharmaceutical companies. Psychedelic Invest recently spoke to Noetic's four managing partners: Michael Franks, Sa'ad Shah, Warren Wright, and Naseem Saloojee to discuss what the fund is building and where it sees the future going in the psychedelic space. The fund currently touches every sector of the psychedelic space and shows no signs of slowing down with it's recent $200+ million dollar Fund II.
#2: JLS Fund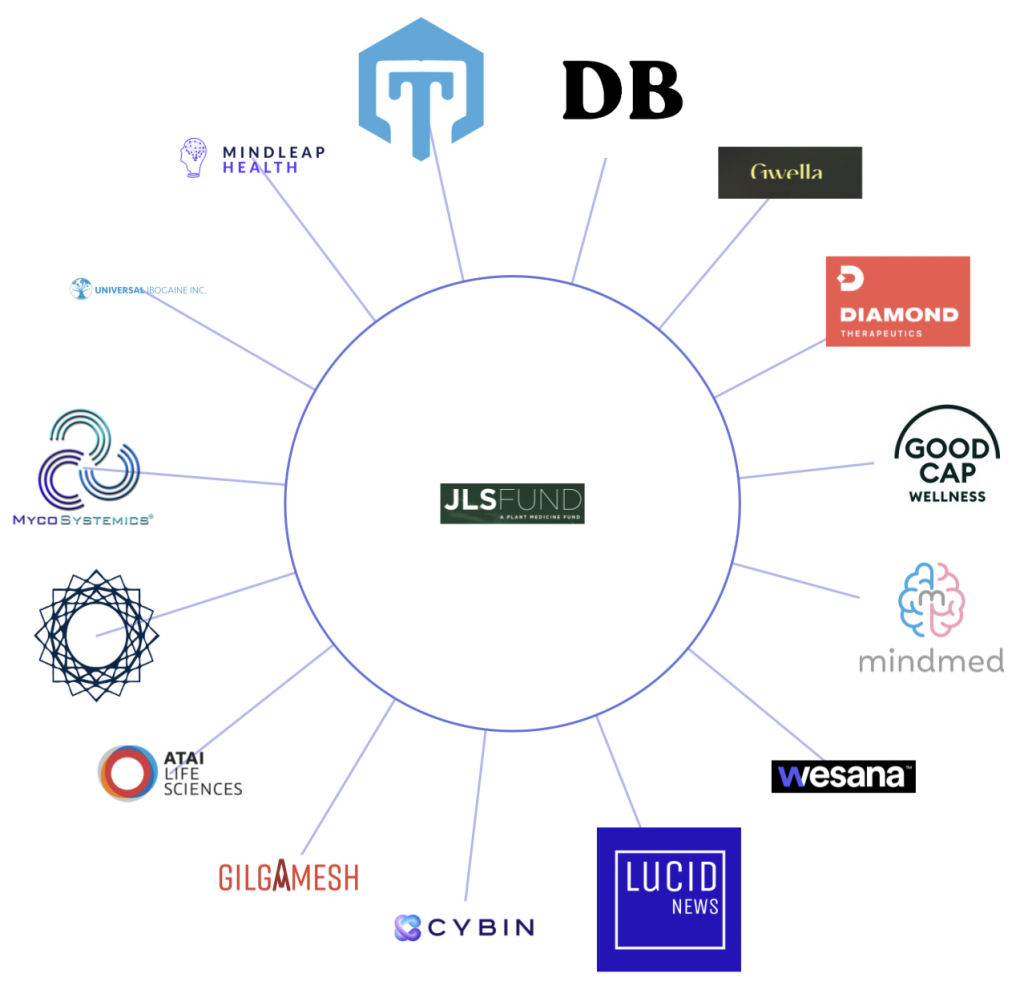 JLS Fund, based out of New York, is currently the second most active firm in the industry. After raising $50 million for the first fund, JLS has not only invested in the largest, most well funded companies such as ATAI, Cybin, and MindMed, but also has expanded into media publications such as Lucid News and Double Blind.
T3: Palo Santo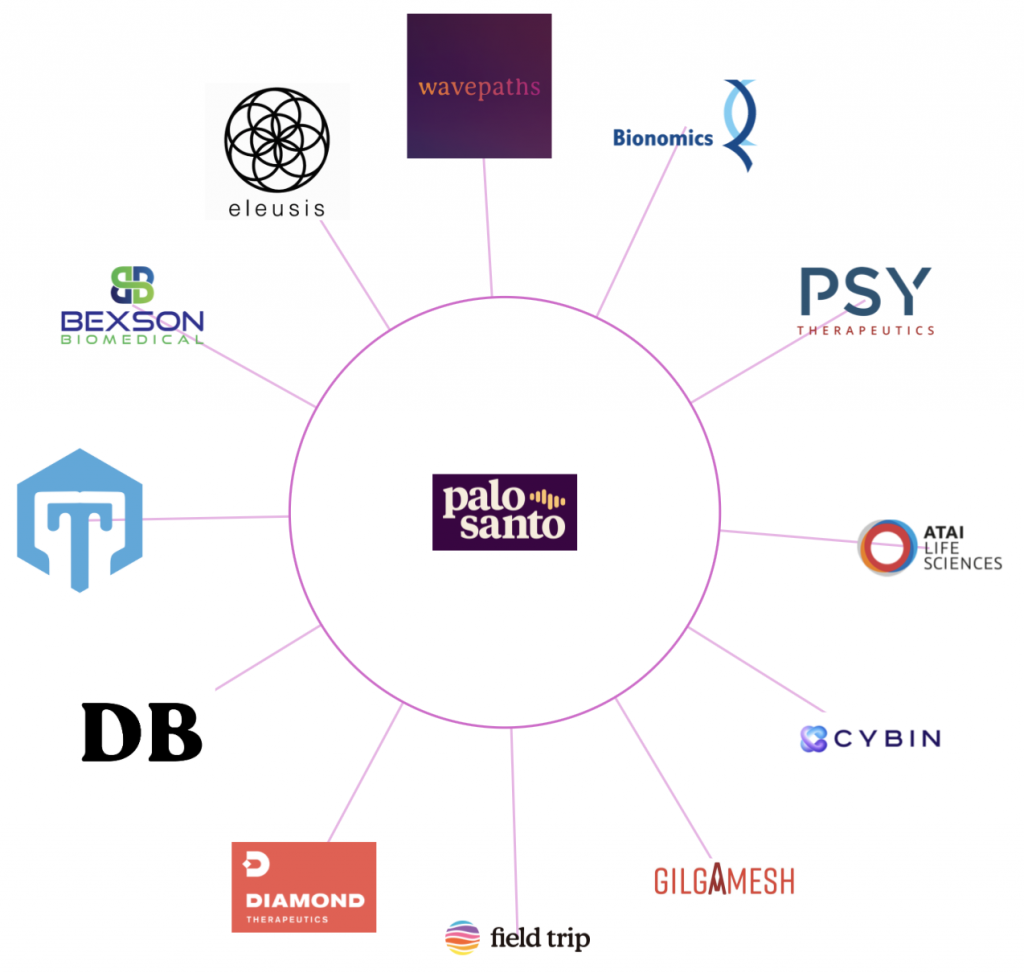 Palo Santo, with a dozen investments, is tied with The Conscious Fund for third most active psychedelic fund. Led by Daniel Goldberg, Palo Santo invests in businesses focused on all therapeutic applications of psychedelics, as well as other novel treatments for CNS disorders.
T3: The Conscious Fund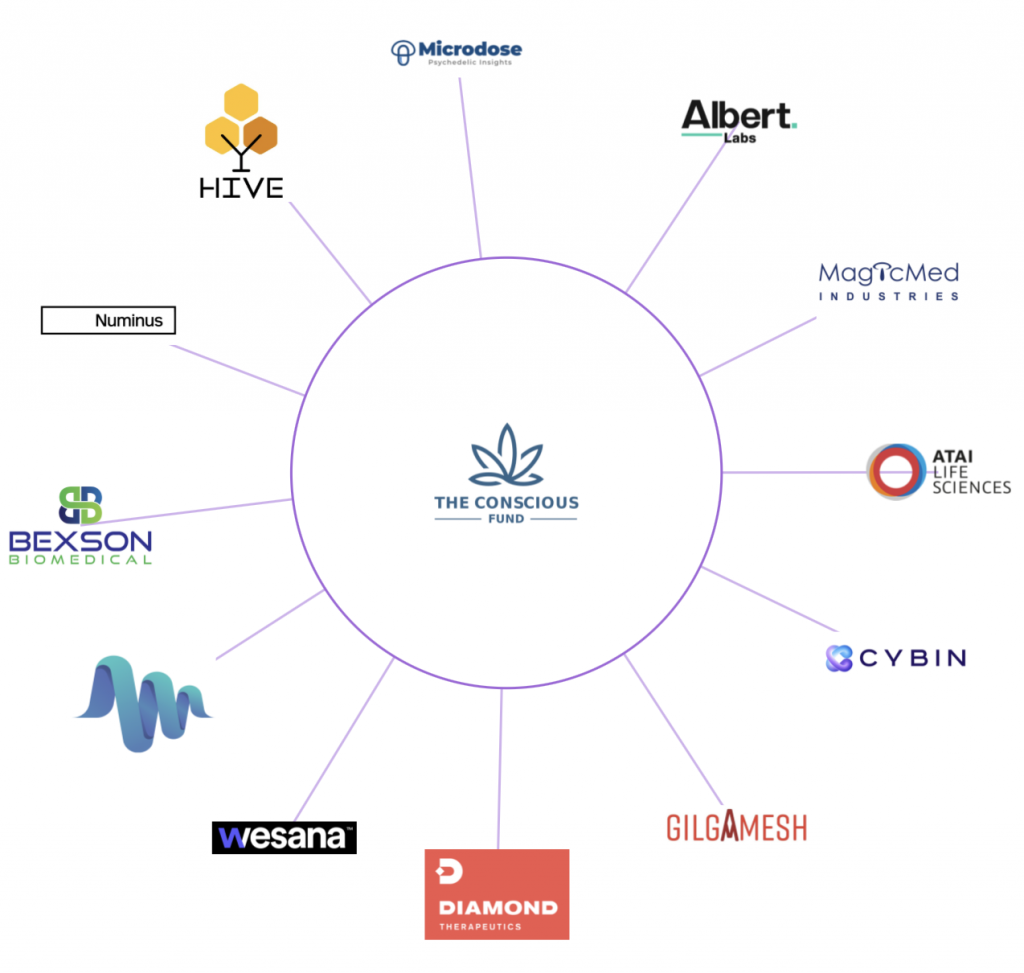 Also with 12 investments, The Conscious Fund is also one of the most active funds in the space including creating the business platform, Microdose as well as a platform to benefit patients and research, Hive Bio.
Investors should keep an eye on The Conscious Fund as they also recently announced their partnership and the creation of The Conscious Acquisition Company, a range of Special Purpose Acquisition Company's (SPACs) for the psychedelic industry.
---
Psychedelic Invest and Neuly will continue to track the ever changing psychedelics industry to keep you up to date with the latest developments.