In our last stock market update in January we mentioned that "the past few months haven't been kind to psychedelic investors."
Well, it's three months later and from a price perspective we can't say much has changed.
With that being said, there are some exciting stories at play which we will get to below, but first let's go over the bad news.
Psychedelic Investing: The Bad News
Taking a look at the four psychedelics companies that we covered in January [Compass Pathways (CMPS), GH Research (GHRS), ATAI Life Sciences (ATAI) and MindMed (MNMD)]​​, we can see that a blended portfolio would be down on average more than 44% year to date (YTD).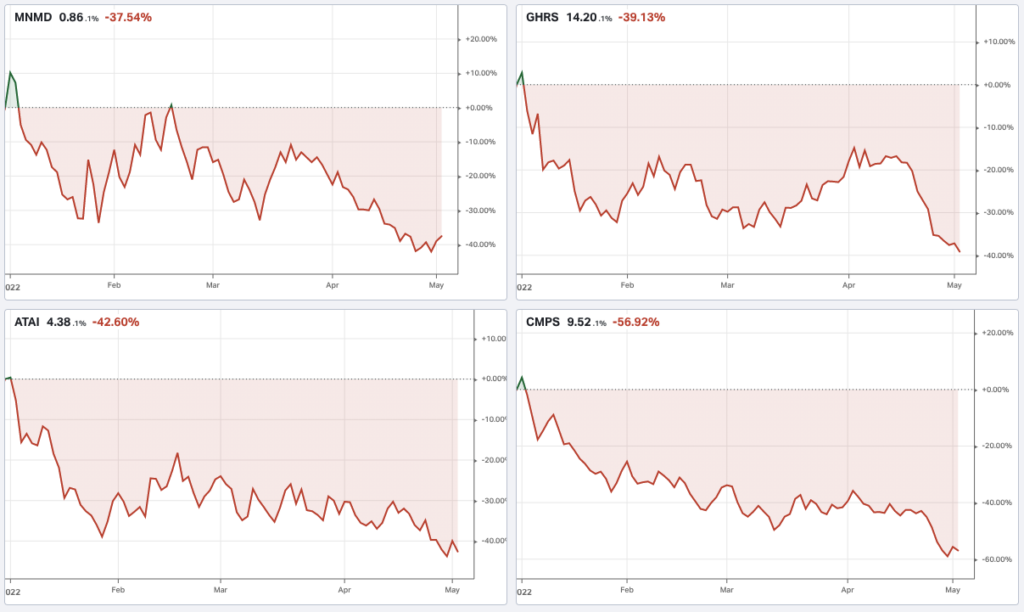 A few of these companies are now trading nearly 80% off of their all time highs (ATH).
In other unfortunate company news, we saw Mindcure report that it was shutting down operations.
Of course, the psychedelics focused ETFs haven't fared much better with active management.
Horizons Psychedelic Stock Index (PSYK) is down more than 69% from its ATH.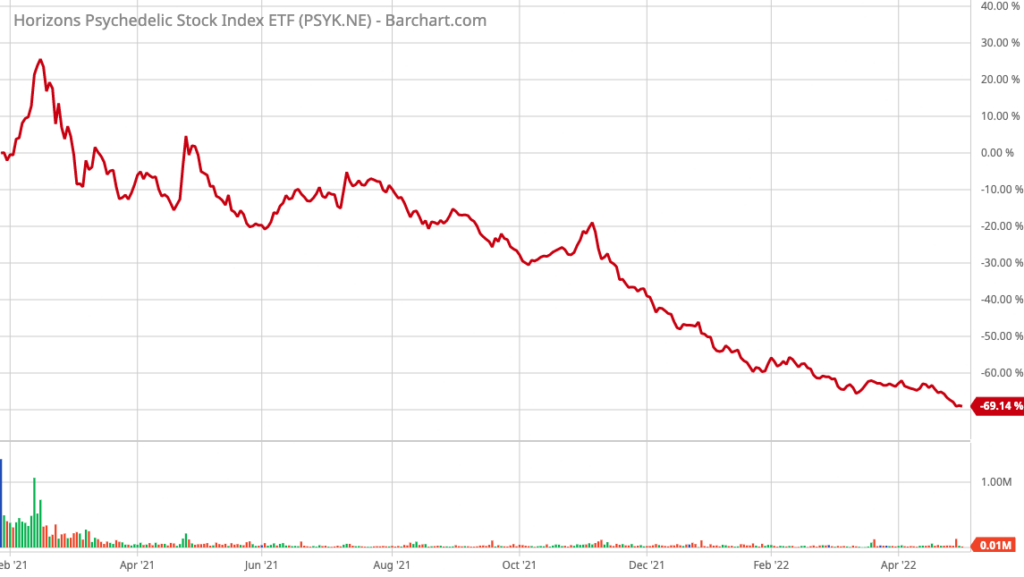 Advisorshares Psychedelics ETF (PSIL) is down more than 68% off its ATH.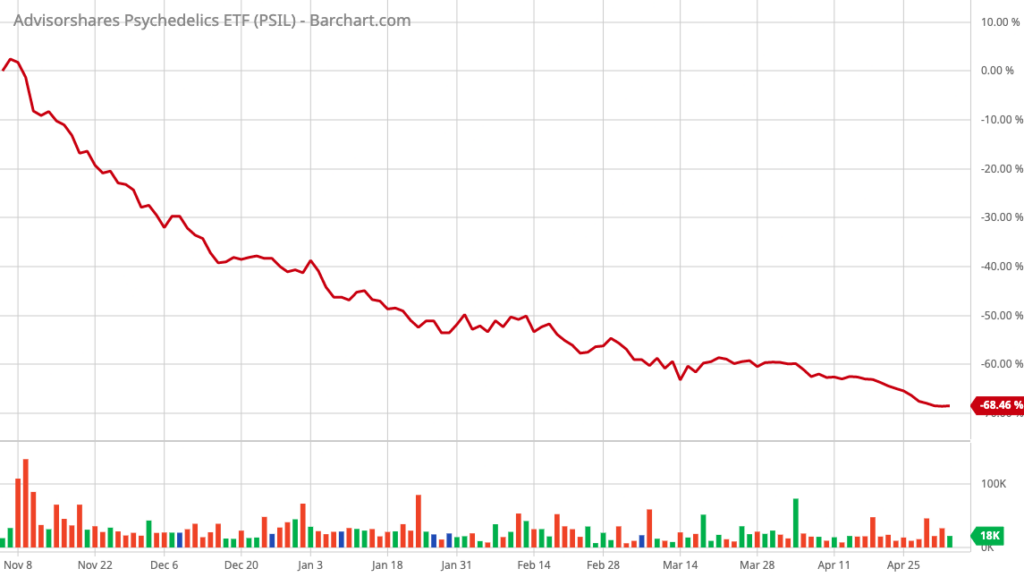 Defiance Next Gen Altered Experience (PSY) is down nearly 76% from its ATH.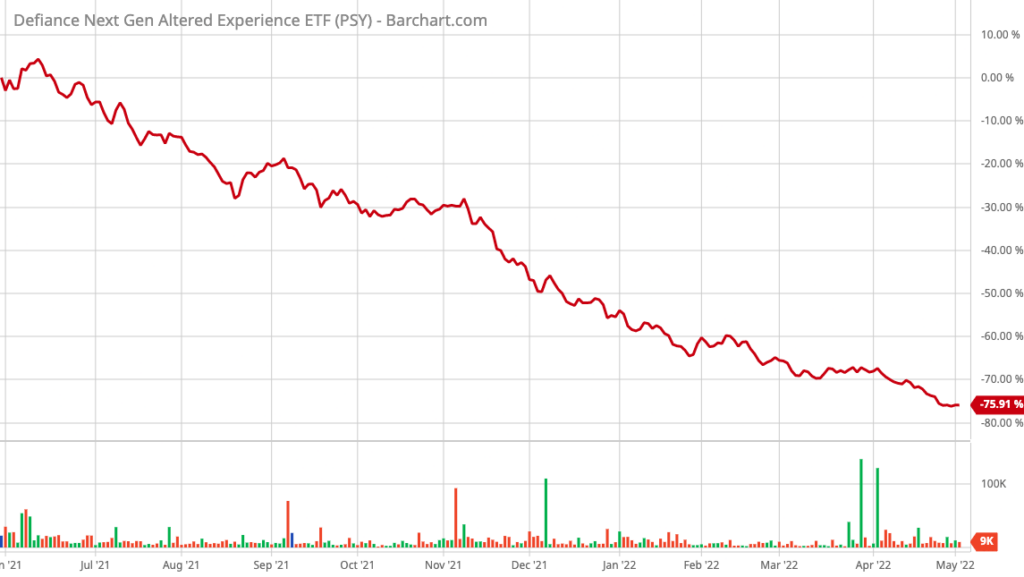 There's no sugar coating it, being a public markets psychedelic investor has been brutal in 2022.
Is it Only Psychedelics?
Taking a look at comparable markets, we can see that psychedelics aren't alone in having a rough past year.
Since peaking in February, 2021, we can see that the SPDR S&P Biotech ETF (XBI), has fallen more than 50%.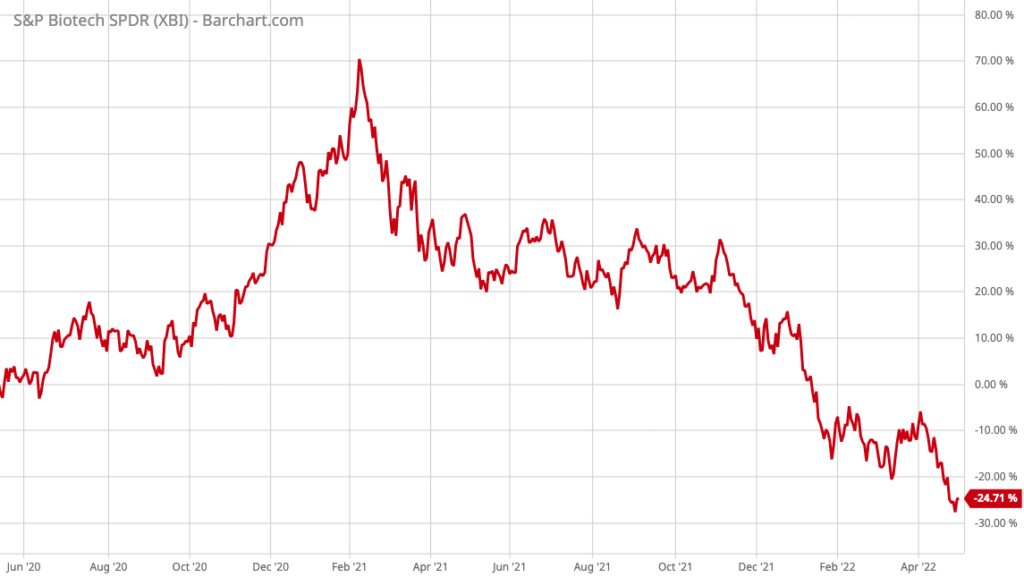 Simply put, biotech investors across all markets are having a rough time.
Psychedelic Investing: The Good News
With all of the bad news out of the way, we can now focus on some good news arising from the sector.
Private money is flowing into the sector.
While the public markets are hurting, that doesn't mean that funds have stopped putting money to work. Over the last few months we saw a couple exciting fundraising including Nue Life Health raising $23 million, Homecoming raising $4 million in a Seed round, and word that Gilgamesh will soon complete their Series B.
M&A Has Begun
We have been predicting this at Psychedelic Invest for the past few months, but in April we finally saw the first true M&A in the sector with Numinus acquiring Novamind for $20.8 million. The acquisition will give Numinus a foothold in the United States ketamine market. More signs of consolidation will be good for industry.
Company Conviction
Believing that biotech companies are undervalued at the moment, the founder of ATAI Life Sciences, Christian Angermayer, announced that he would be buying 1 million shares of his own company's stock. At current prices, that represents an investment of ~$5 million.
A New Player Enters the Field
In the last quarter, Psychedelic Invest has added a new constituent to the Psychedelic Invest Index: Relmada Therapeutics (RLMD). Although not a pure play psychedelics company, Relmada states that they are "developing a novel psilocybin formulation and are synthetizing psilocybin derivatives with promising activity for the treatment of CNS disorders." The company now represents the second largest constituent in the Psychedelic Invest Index.
Looking Forward
Although we don't know for sure what will happen in the psychedelic markets over the next few months, we agree with Christian Angermayer that the market is beginning to look attractive.
With that being said, the macro environment continues to look shaky, the Fed is looking to raise rates, and inflation has begun to put a hole in individuals' wallets – all factors that don't bode well for investor appetite in capital intensive companies.